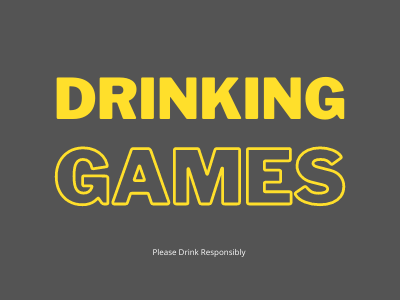 Drinking Games
Drinking Games: Get On Board with the Growing Trend
The world of drinking games is exploding like never before. As brands like What Do You Meme become household names and more people look for fun ways to entertain and engage with their family and friends, there are so many more games available today than ever before. Social distancing has also created a new interest in the board game and drinking game world and brought many new people to the table.
If you're looking for a way to plan a fun night that's more than just sitting around watching TV or gossiping about the latest news in your friend group, drinking games might be a perfect choice. Perhaps you're hosting a virtual party or having some family in for the holidays. Drinking games are fun and they're a great way for everyone to lighten up and have a good time.
Drinking Games for People Who Never Drink?
The good news is that the number of games available today that offer ridiculous fun isn't just for drinkers. Games like Cards Against Humanity and What Do You Meme can be fun just to play even if you don't add drinking rules. Now, you might not have as much fun playing a drinking game based on a show or movie, such as The Office drinking game that requires you to drink based on certain prompts, but there are still a lot of choices out there.
Where to Buy Drinking Games
If there are drinking games that you want to play that require a purchase, you can find them just about anywhere. Shopping online makes it easier to get the best selection and pricing, of course, but you can also pick them up at local big-box retailers and specialty game stores. Bookstores often have these games available for sale, as well. Most of the popular drinking and card games today like Exploding Kittens and Cards Against Humanity are also available on Amazon. Just make sure that you're getting authentic games from the manufacturer, regardless of where you shop.
The Best Drinking Games
There are so many different games to choose from today, but they all offer something unique. Card games and simple games are popular. After all, you're working on getting drunk– the fewer rules, the better. People enjoy the simplicity of popular drinking games like the Buzzed Drinking Game and the Incohearant Game, which is what makes them so popular. When it comes to the best of the best, including both games available for purchase and games that require no physical parts, here's the top of the crop:
Never Have I Ever

Buzzed Drinking Game

Cards Against Humanity

Flip Cup

Drunk Jenga

21 Questions

Kings

Truth or Drink

Beer Pong
There are several iterations of beer pong-esque games that people are playing today, too, giving you even more options. Some people play traditional card games, like Uno or Rummy, and turn them into drinking games, too. The bottom line is that there's really no shortage of games out there that you can drink to, even if you have to make up your own drinking rules.
How to Play Drinking Games on Zoom, etc.
We're living in a world where social isolation is putting a lot of stress on some people. However, we also live in a world where technology is better than ever, giving people the chance to connect with others even from miles away. Game nights, reunions, and other events are taking place online in record numbers, and at first, it was so popular that the sites hosting the events couldn't keep up.
Fortunately, most have upgraded to handle the new demands and offer reliable service. You can get on Zoom or another video call with your family and friends to play drinking games. You'll just have to make sure that you choose a game without physical parts that everyone has to use or adjust the rules so that it works in the virtual format. It can be a lot of fun, and it can be a great way to put a new twist on even the most basic drinking games.
Choose the Best Drinking Games for Your Next Event or Game Night
While you won't want to bring these games to the family table with the kids, they can be a lot of fun for adults who are getting together to have a good time. Plus, it's more fun to drink in a game-type setting than it is to just sit around and have a few with your friends. If you're trying to see who can drink the most or play the longest, it's also great to have plenty of drinking games on hand to keep everyone engaged and competing for the top spot.
From drinking card games and board games to simple questions, trivia, and more, there's a lot out there to choose from in the world of drinking games today. Take advantage of that and find the best games for your enjoyment.